​23 ocean-front, spacious, palm-thatched private cabins built on stilts. Our suites were designed with refined elegance and built and furnished by local artisans. Their cozy interiors inspire feelings of calm and serenity.
​


Affordable Rates for Upcoming Mexico Yoga Retreat 2017:


Dorm Room: 8 bed palapa) $1,600/person taxes included



Deluxe Room: Double (2 people) $1,900/person taxes included
Single (1 person) $2,500/taxes included
(small private room with full size bed or two twins/ocean view)

​
Petite Suites: Double (2 people) $2,100/person taxes included
Single (1 person) $2,800/taxes included



Eco-chic Suites: Double (2 people) $2,300/person tax included
Single (1 person) $3,200/taxes included
(pictured above, ocean view)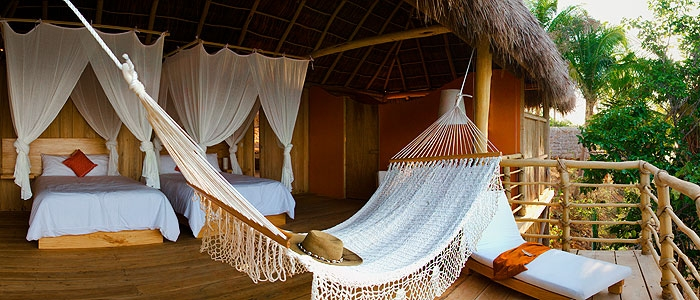 Safe Travels with Experienced Facilitators
Many of our guests come solo. We are happy to match you with a roommate when available
.
To Reserve:
Please email
yogatopia@hotmail.com
or call
(808) 635-9563
with room type desired, name, address, email and phone. $500 non-refundable deposit required to hold space, balance due by January 1, 2017.
Airline info:
Please book flights to PVR (Puerto Vallarta). Flights must arrive on Dec. 4th, Saturday, no later then 4:30pm. On departure, Dec. 11th, Saturday, flights must be no earlier then 11am. This is to ensure boat transfer schedule.
Please email airline arrival and departure when booked. Visa/Mastercard accepted. Space is limited and will fill quickly.
Must have current passport